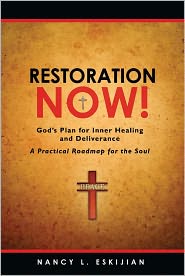 ORLANDO, Nov. 9, 2011 /
Christian Newswire
/ -- Signalman Publishing is proud to announce the paperback release, and ebook distribution, for Amazon Kindle, Barnes & Noble nook and Apple iBookstore, of "Restoration NOW! God's Plan for Inner Healing and Deliverance" by Nancy L. Eskijian, Senior Pastor of Bread of Life Foursquare Gospel Church in Los Angeles, California.
In the many years that the author has served as a pastor, she has seen many people trapped in limited lives, bound by the effects of sin (sometimes generationally), and damaged by emotional wounds. Through her ministry and careful study of scripture, the author was led to write this book to provide believers practical tools to overcome the past, experience ongoing freedom and healing, as well as present a pattern for continual growth and living in Christ. The Seven Levels of Cleansing and Restoration at the heart of this book take the reader through the seven vitally important dimensions of change, healing and deliverance for restoration of the soul from a scriptural and practical standpoint. This book also unfolds a compassionate, Biblical, and healing approach to gay, lesbian, bisexual, and transgender issues. "Restoration NOW!" is literally a roadmap for the soul.
"Restoration NOW!" is a detailed resource on the ministry of inner healing and deliverance for ministers and lay persons to enable believers to reclaim their intended identity, inheritance, and purpose in Christ.
"Restoration NOW!" (ISBN: 978-1-935991-13-7, $14.99, Non-fiction/Christianity) from indie book publisher Signalman, is distributed through Amazon, Barnes & Noble.com, and the Apple iBookstore and is available for order wherever fine books are sold.
About Nancy Eskijian
Nancy Eskijian has served for over 17 years as the Senior Pastor of Bread of Life Foursquare Gospel Church in Los Angeles, California. Bread of Life is an urban church with English and Spanish spoken at every service, as well as a fusion of Jew and Gentile spiritual roots, ministering to needs of people, both spiritually and physically.

About Signalman Publishing
Signalman Publishing, a member of the Christian Small Publishers Association, is an independent book publisher based in Kissimmee, Florida. Signalman has a wide range of thought-provoking literature to encourage and enhance the lives of its readers.